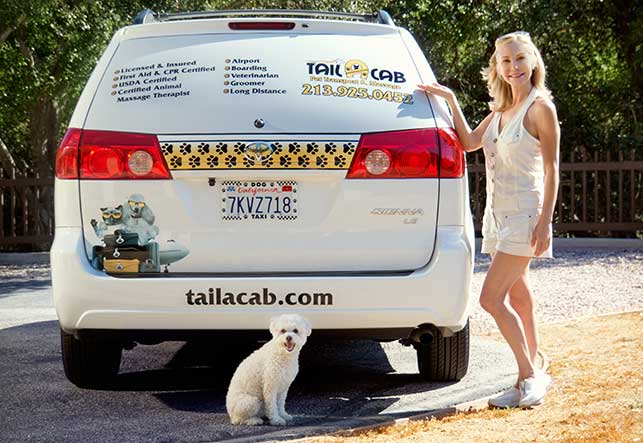 SERVICES
Domestic & International
Pet Shipping
Local Pick-up/Delivery
Long Distance Ground
Rescue Transport
Crate Supply


Lisa Robert,  professional airline check-in agent & relocator, has been offering safe and reliable pet transportation since 2011 and has grown TAIL A CAB into one of the most sought after pet taxi companies in Los Angeles.
We recognize that entrusting your pet to a stranger can be stressful. We specialize in safe, one on one care, providing photo and video updates along the way to ensure you feel connected and comforted during your pets' journey.
Lisa truly loves her work and takes pride in offering conscientious and loving care to all pets throughout their travel.
Lisa expanded her education of animal care through an advanced 200 hour course in Small Animal Massage, which includes animal handling, canine / feline nutrition, and pet wellness.  She is also Pet First Aid and CPR Certified. Lisa is the proud owner of 2 dogs and 2 cats and spends her free time rescuing and rehoming dogs and cats in need. She also enjoys creating and editing her own music videos to promote animal rescue.
TSA CERTIFIED (IAC Air Cargo Security Trained for Indirect Carrier – Authorized Representative)
USDA CERTIFIED (Class T Carrier # 93-T-0048)
Pet First AID & CPR CERTIFIED ( American Red Cross)
IPATA member in good standing (www.ipata.org)
Licensed, Bonded, Insured
Small Animal Massage CERTIFIED (Ojai School of Massage)