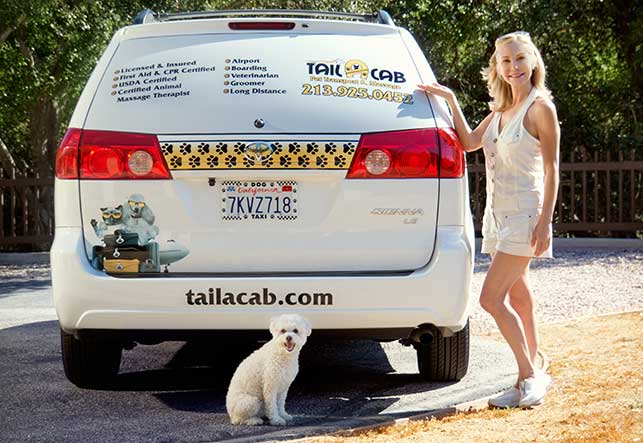 SERVICES
Domestic & International
Pet Shipping
Local Pick-up/Delivery
Long Distance Ground
Canine Massage
Rescue Transport
Pet Sitting/Walking
Crate Supply


Lisa Robert*, Owner/Driver, has been offering safe and reliable pet transportation since 2011 and has grown TAIL A CAB into one of the most sought after pet taxi companies in Los Angeles. Lisa always takes pride in giving loving and conscientious attention to pets in her care. She took her interest in pets a little further through advanced education in Small Animal Massage Therapy, which included studies of canine/feline health and nutrition. She is also Pet First Aid and CPR Certified. Lisa is the proud owner of her mini-poodle, "Lottie", and 2 rescue cats, "Betty Blue" & "Barley".

Samantha Larsen, Assistant/Driver, is a long time animal lover who studied marine biology in college and has also worked as a Vet technician. With 25 years of experience in special needs pet sitting, " Sam" possesses a doting nature and a watchful eye, while excelling in administering any form of medication necessary. Samantha is the host of the YOUTUBE series, "CHOWTIME", currently in production, which features nutritious home prepared recipes for healthy and ailing dogs. She is the owner of her beloved, special needs Italian Greyhound/Poodle, "Buddy".

Dawit Haile, Pet Sitter/Trainer, was born and raised in Ethiopia. As a child in Africa, Dawit developed a passion for wildlife and began volunteering with his father in safaris, to better understand animal behavior. After moving to America with his family in 2001, he received his degree at UC-Irvine in Pre Law, and then decided to pursue his true passion as an Elite Dog Trainer. He has received acclaimed success with the "No Treats" Training Philosophy, through reading dog communication signals and employing a combination of positive reinforcement and "think like a dog" psychology, which has proven to deter common unwanted behavior patterns permanently.
*
TSA CERTIFIED (IAC Air Cargo Security Trained for Indirect Carrier – Authorized Representative)
USDA CERTIFIED (Class T Carrier # 93-T-0048)
Pet First AID & CPR CERTIFIED ( American Red Cross)
IPATA member in good standing (www.ipata.org)
Licensed, Bonded, Insured
Small Animal Massage CERTIFIED (Ojai School of Massage)